Are you looking for a European logistics partner who can help you with the full spectrum of logistic solutions?
Welcome to Europe and welcome to Chain Logistics
We are a service based company that acts as an extension of your own company.
Our main pillars are: Transport, Warehousing and Fulfilment. These services consist out of:
Transport
• Worldwide pallet distribution
• Worldwide parcels
• European express services
Warehousing
• Stock keeping
• Unloading shipping containers
• Pick pack ship (B2B & B2C)
Fulfilment
• Assembly
• Rework / Re-pack
• Visual inspection
• Purchasing support
How we do it
All the stockkeeping and assembly is done in our inhouse facilities. The premises and our warehouse is secured by camera's. The courier services are mainly done with our own fleet. However we do have a select group of trusted partners which have their own specialties. For example our neighbor is a transportation company specialized in UK and Eastern Europe transport.
The benefit of working with Chain is one-stop-shopping. One partner for the full range of logistics services. Furthermore we have state of the art systems and processes in place the ensure safe and accurate stocklevels. We pride ourselves in being flexible while maintaining the art of efficient and qualitative processes.
All the information is logged in our ERP system (Microsoft Dynamics NAV a.k.a. Business Central) offering traceability of goods and insight in production or transportation statuses. We offer a webportal in which you can register incoming or outgoing goods, view signed documents, view stocklevels (based on items, lotnumber and/or expiration date) and download the information.
Our fulfillment process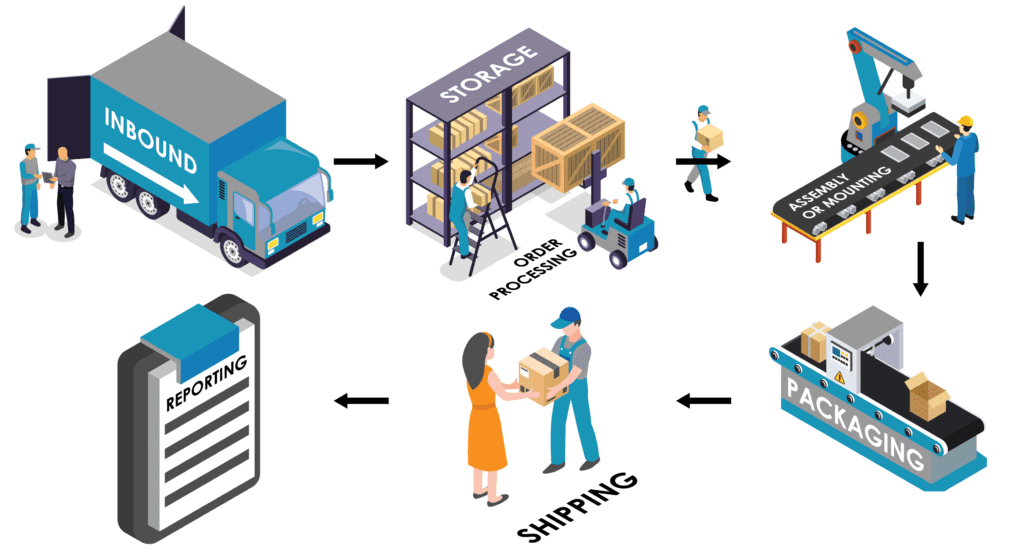 The benefits of working with us
Safe and accurate – state of the art systems and processes and continuously working on progress and innovation.
Reliable logistics - you can always count on Chain.
Total solutions - We like to think along with you. Nothing is too difficult for us.
One-stop-shopping – your partner for the full range of logistics services.
Transparent - open calculations, traceability of goods through our ERP system and a webportal for clearity of all your documents.
Social impact - People perform better when they feel better.
Personal involvement – We care and we deliver.
Would you like to request a quote or do you have a logistics issue that you would like to discuss? Then contact us. We are happy to think about a suitable solution for you.