Gepubliceerd op: 25/03/2023
Modine counts on nearby partner for Third Party Logistics
Photo: Jan Verheijen (left), Rob Jansen (centre)
Chain Logistics and Modine are just under two kilometres apart, on the Hoogveld industrial estate in Uden. Every day, one of Chain Logistics' drivers gets on the truck to arrive at Modine just a few minutes later. There, Chain picks up tools that Modine uses when making oil coolers for the automotive industry.
Jan Verheijen is logistics and production manager at Modine and explains that the two companies have worked together for many years in the field of Third Party Logistics (3PL). The work Chain takes care of for Modine includes transport, warehouse and assembly.
Translating customer needs into a plan
Before Chain Logistics owner Rob Jansen started his company, he himself worked at Modine as a logistics manager. In his work, Jan translates customer demand into a plan focused on purchasing, production and sales. "That plan shows that the customer receives the items on time, at the lowest possible cost and of excellent quality."
Transport
The short distance between the two companies works favourably, as Chain Logistics only has a short drive to collect goods. "After Chain collects the tools from us, the driver brings the tools to EMD Tooling in Venray for maintenance or repair. After that, Chain brings the items back to us."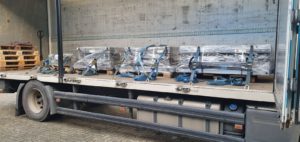 Storage
If goods need to be stored externally, Modine can always turn to Chain. In that case, it mainly concerns items the company cannot get rid of at the moment and which have little movement. In the past, Modine even rented 200 square metres of storage space.
Assembly
Chain helps Modine in production when needed in terms of assembly. And also carries out qualitative actions, in purchasing party controls. Jan finds that Chain's strength lies in the fact that they never say 'no'. "They immediately fill in the demand for us and think with us," he says. Is there ever a problem with one of our procurement parties, Chain helps to sort things out. Fortunately, that doesn't happen often, but it's a nice thought that we are never at a closed door with Chain."
Helping each other out
At Modine, they specialise in building oil coolers for the automotive industry. During the corona pandemic, there was temporarily less work for Modine employees, on which some of them were allowed to help at Chain in the assembly department. "That was a temporary problem, where we found each other. It starts with honest communication between us and Chain and, of course, the interest of our employees to join Chain for a few months."
Nearby
Why look further for a cooperation partner when someone is so close? Jan: "You don't have to get it from far away. Chain is a flexible and reliable partner for us in the field of Third Party Logistics, which has proven itself in recent years." Jan praises the fact that Chain's employees are there for him and his company and think along with him. "They make every effort to get an order done at short notice."